Ducks, Ducks, Ducks, Geese, Heron
When all else fails, take some pictures of some ducks. We have quite a variety in the local ponds at the moment, although I suspect that I've seen the last of the hooded mergansers until next year: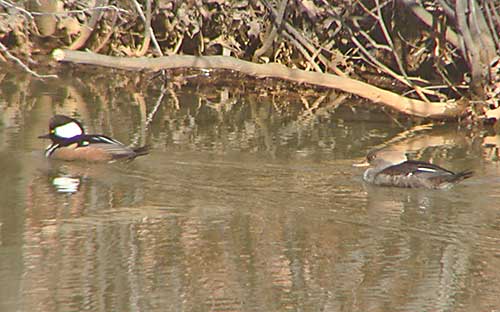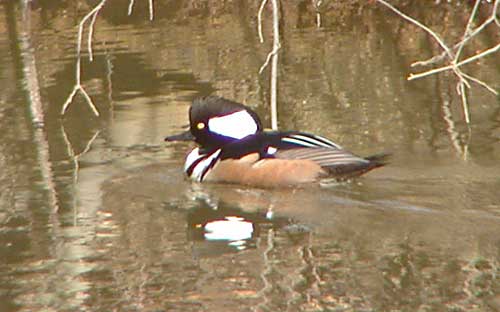 That female has to be one of the ugliest birds you'll ever see, and it is so fuzzy that even if you can get close enough to get a good shot, the picture still looks out of focus. These two pictures were taken at the Firemen's Pond (as I call it) on Monday, March 6, and I've not seen the male again. I did get one glimpse of a solitary female at the downstream duck pond on Thursday.
However, the Fireman's pond is home to more kinds of ducks. There are teals and wood ducks to be seen there, although unlike the ubiquitous mallards and American ducks, they flee to the other side of the pond the minute I put in an appearance. Here's a shot I took of a teal, and a pair I first thought were wood ducks except that the female looked too big, and who can tell what the male is in this shot?. Turns out they're northern shovelers. Overseeing the ducks are a pair of Canada geese -- one day, I'll do a comparison of what appear to be three kinds of Canada geese: short-thick-necked, long-thin-necked, and long-thick-necked.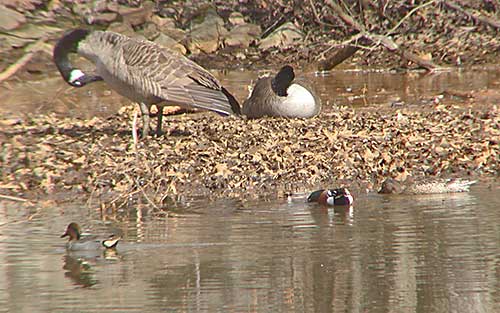 And here's a picture from Monday of two northern shovelers I spotted at the duck pond--I spent all week thinking I'd seen wood ducks in some kind of drab winter plumage: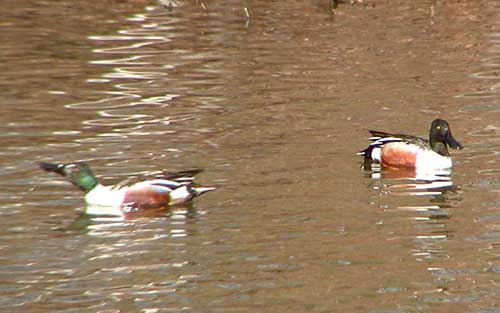 Meanwhile, over at the original duck pond, upstream from the footbridge that connects the two parts of Chestnut Ave., there has been a major change since a huge tree fell into the pond during a storm last year. Now there are four American ducks who have taken up residence within the rotting tree. Two of them seem to be more comfortable with having their pictures taken. Also plentiful at both ponds are mallards.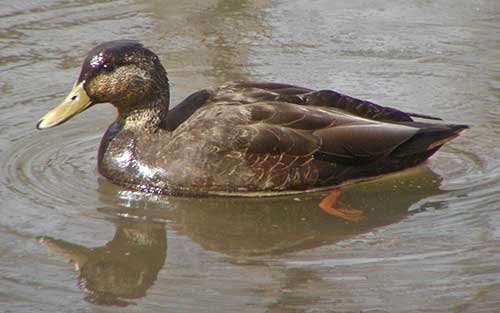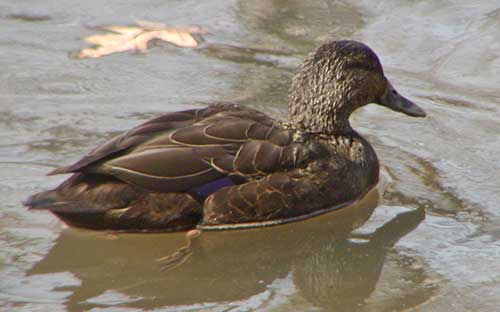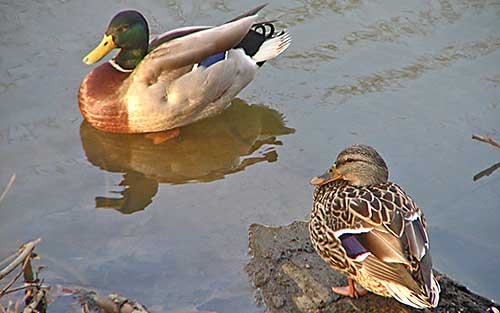 Oh! I nearly forgot the heron. I think this must be the same bird as yesterday. I didn't see it at all from across the pond, although having stumbled upon it while trying to get closer to the teals and what I throught were wood ducks, I could then see it from the other side: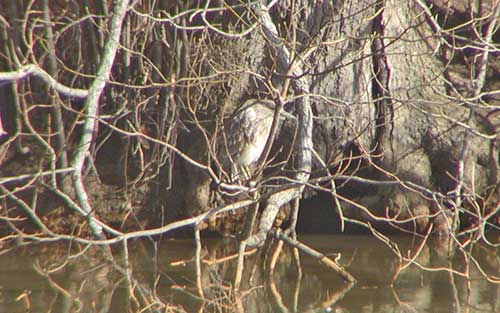 I was able to get quite close to it, but getting a clear shot through all the trees was difficult. Here's the best one: