And today, an Egret
Hot on the heels of yesterday's great blue heron, today I spotted an egret. I first saw it in flight and it was headed up the same north-side arm of Deal Lake where the great blue had eluded me yesterday. But it didn't stay there long. Unfamiliarity with the camera cost me an excellent chance to get some shots of it in flight, but I followed it and found it in yet another of those side-arms. But this one is not as long and so I was at least able to take this picture: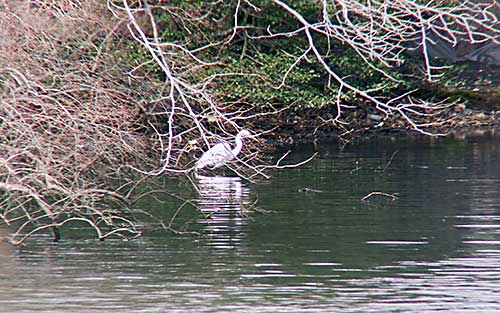 Experience says that this bird will be around for a few days before continuing north, so I'll go out for another look tomorrow (weather permitting).
I did see the great blue heron again a few minutes later at the duck pond, but just as I got into position to take a picture it upped and flew off. I last saw it flying past some houses close-by the lake and heading off in a north-westerly direction. I'm not sure where it was going because there's not much in the way of open water in that direction.