Damp Sunday Afternoon
Determined to make the best of a damp afternoon, I set off on my usual walk, first to the duck pond, then along North Wanamassa Drive. At the duck pond, the only picture I took was of a female American Black Duck which had wandered up on to the bank: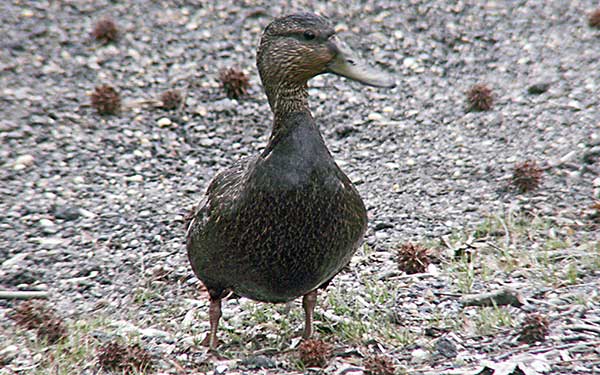 But then, as I was walking along the south bank towards Foodtown, I heard, but didn't see, a kingfisher. Three times, it made its distinctive call, but none of the times did I catch any kind of glimpse of it. I crossed Wickapecko and looked along Deal Lake from the bridge, and lo! There was the kingfisher flying towards the ocean. I tried to follow it, but there was no sign of it. If it did alight on any of the overhanging branches, I didn't see it.
This has been an unprecedented year for kingfisher sightings. I've never before had more than one sighting a year, and already I'm up to four sightings this year, but with narry a picture to prove it.
To add to my frustration, it started to rain. I took shelter under a tree halfway down the bank. It was just a shower and there was no lightning to worry about. While I was there, I saw a pair of great blue herons. They flew along the lake towards me from the ocean but circled back just before they reached me. I waited out the shower and set off in pursuit, hoping to find them together. But the sky was by now looking very threatening, so I decided to head back home lest if pour, because I was wearing just a jacket.
I caught sight of a gull that I'd noticed sitting on the lake when I went the other way. Thinking I might get some shots of it taking off, I hurried to find a place on the bank where I wouldn't have to worry too much about the overhanging trees and focused on the bird. Before I could press the shutter release, the bird took off, and I was able to get one picture only. But it's a pretty good one under the circumstances: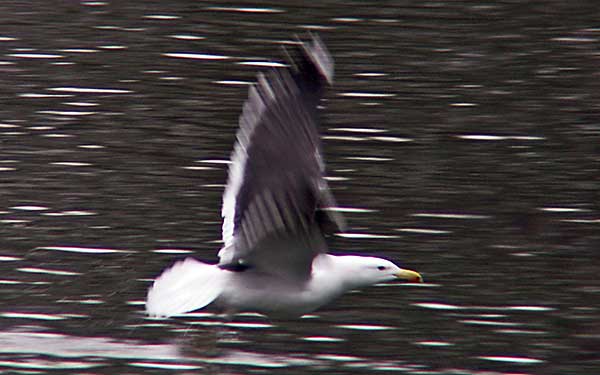 I decided to return home via Fireman's Pond. It is only slightly out of my way. To my surprise, I spotted the Northern Shoveler. I thought this was the same bird as the one I captured on Friday. I thought it had flown from one pond to the other. But now I compare the pictures, this one has a white mark near the top of its beak that was not present on Friday's bird. I had seen a shoveler at Fireman's pond before, so perhaps this was that bird.
I was also able to get a slightly better picture of the male teal, although I've still not gotten close enough. The first chance I get on a sunny day, I'm going to take my longer lens along.