First Sandpiper of the Year
I took a break after work today and checked out first the Fireman's Pond. The most interesting thing there was a male Mallard who was resting on the verge of the road and who wasn't at all worried by my relatively close approach. I went on to North Wanamassa Drive and again there was nothing to see -- at first.
But then I noticed a duck on the lake making unusual head movements as it swam. I realized that there was a little colony of wood ducks in among the Canada geese. But, try as I might, I could neither get close enough to them nor get a good angle -- the sun was quite low in the sky.
So, I set off back home and there on a high branch right by the bridge on Wickapecko was an adult Black-crowned Night Heron. I know that it hadn't been there when I'd arrived maybe a quarter of an hour earlier. Unlike on Sunday, this bird took quick exception to my approach and flew to another tree, where it was impossible to see from the road. With Sunday's pictures under my belt, I decided to come home via the duckpond.
Again, there was very little activity, but then I realized that a kingfisher was flying along the north bank and it alighted in a tree. I was too far away for a good shot, but I've had no luck at all with this bird, so even a halfway decent blur from 50 yards would be better than nothing. But by the time I positioned myself and steadied the camera, it was gone. I put my glasses back on in the hope of spotting it again and my attention was caught by this bird: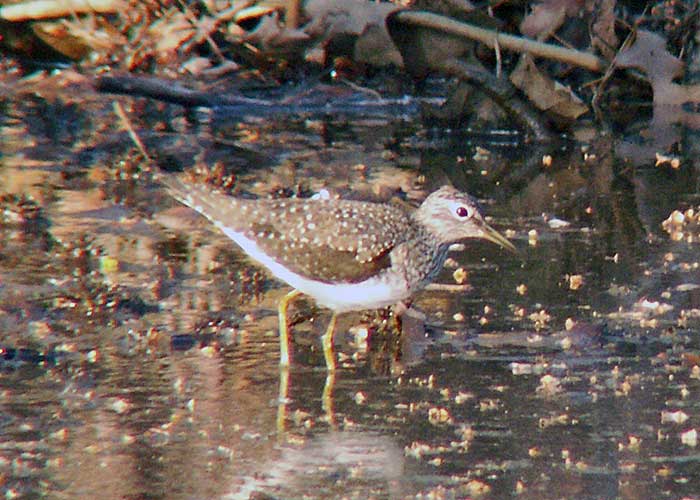 This is my first sighting of a spotted sandpiper this year. But it too didn't hang around for long. As I was torn between taking pictures of this relatively easy bird to capture and the elusive kingfisher, the sandpiper flew off without my noticing! But then I caught another glimpse of the kingfisher as it flew to a branch that I knew I could get close to. But by the time I got there it had gone again.
One of these days, I'm going to have to muster the spare time to sit and watch that branch for maybe and hour or two and then perhaps I'll get lucky.