Second Call for Blue Jays
It was only a couple of weeks ago that I realized that blue jays have a second call. The one that is so easy to recognize is a kind of cawing noise, something like the sound a crow makes, but pitched about half an octave higher -- I can imitate the crow's call, but not the blue jay's: too high for my baritone. But a couple of weeks ago, I spotted a blue jay in a tree in our front yard. And it was making the familiar cawing noise.
But then it seemed to fly off and I heard a different call. More like a whistle. And I realized that the jay had flown only a few feet to another branch and was issuing this other call that I had never before heard.
Well, yesterday, I heard it again. This blue jay: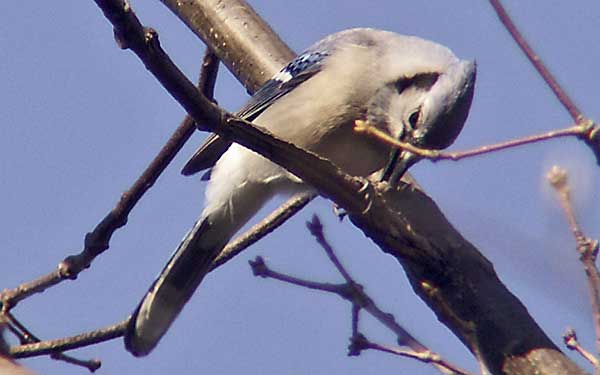 made the same whistling call. And there was no doubt at all that it was this bird because I watched it for quite a while. It was a bit far away for a really good shot (the camera was pointing almost straight up for this one), but this is far better than I could possibly have achieved with my previous camera.
I wonder if one of the calls is territorial while the other is a mating call. I expect I could find that out with some suitable googling!